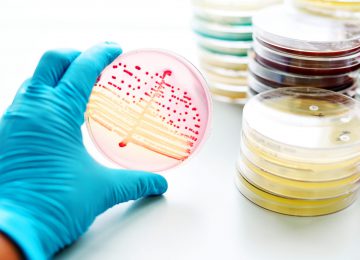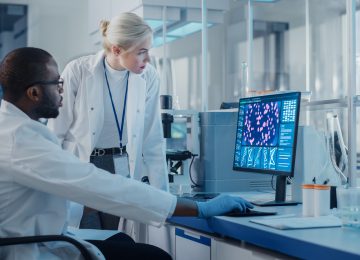 Microbial limits testing services
Routine Analysis and Test Codes: Microbial Limits
Microbial limits tests are performed to determine whether products comply with an established specification for microbial quality. Microbial testing methods of European Pharmacopoeia and United States Pharmacopoeia are harmonized. The testing is executed according to EP 5.1.4 or USP <61> and USP <62> for objectionable organisms as specified by FDA requirements. Preparatory testing may also be performed to neutralize any antimicrobials.
Our Sterility Testing Services
Sterility testing is carried out by our team of microbiological experts to verify aseptic manufacture or the effectiveness of a sterilization process using ISO11137, ISO11135
Synergy Health Utrecht completes sterility testing to either USP/EP or ISO 11737 using membrane filtration, direct immersion (inoculation) or removal of microorganisms from the product. These techniques can be applied on the total product part of the product or of the fluid pathway. The necessary techniques depend on product characteristics and Customer requirements.
Sterility testing is performed for three reasons:
Test for sterility (USP/EP)- Confirm requirements for sterility of a product following exposure to a sterilization process or aseptic manufacture.
Test of sterility (ISO11737-2)- Qualify the minimum irradiation dose needed to achieve a specified sterility assurance level (SAL)
Test for Sterility of Sub-lethal EO validation samples (ISO11135) to establish and prove the relationship between the BI and the natural product bioburden.
Synergy Health offers:
Sterility testing to USP/EP or ISO 11737
Range of ISO Class 5 cleanroom suites available to offer focused and high quality testing.
Custom method selection and design
Full product specific protocols (provided upon request)
Method suitability test (Bacteriostasis and Fungistasis (B/F))
Minimization of inhibiting effects in test (Neutralizing Antimicrobial activity))
Sterility testing on large or complex devices or products, for example, products exceeding a capacity of 20 liters per sample
Sterility testing is used for:
Pharmaceutical Drug products
Pharmaceutical Raw materials (API's, excipients)
Medical Devices with a sterility claim
Packaging (for food/medical/pharmaceutical industry)
LAL-Endotoxins testing services
The Bacterial Endotoxins Test (BET) is an in-vitro assay for detection and quantitation of bacterial endotoxins, a component of the cell wall of gram-negative bacteria. A BET is performed for batch release testing of pharmaceutical products and medical devices that will be in contact (direct or indirect) with body fluids of mammals.
BET is also known as LAL-BET, Limulus Amebocyte Lysate test and is sometimes referred to as the pyrogen test. Bacterial endotoxins can cause a fever in mammals, including humans.
All Endotoxins testing are performed according to the requirements outlined in USP chapter <85> or <161>, EP 2.6.14 or JP 4.01. Synergy Health offers BET testing services using Kinetic Turbidimetric Method and Gel Clot Method.
Microbiological assay of antibiotics testing services
Antibiotics described in the European pharmacopoeia and the US pharmacopoeia require testing of antibiotic potency using microbiological assays. Chemical determination of an antibiotic measures the concentration of the antibiotic in a solution or raw material. This however does not give an exact estimate of its ability to kill target organisms.
The effectiveness of an antibiotic is expressed as the microbiological potency which reflects the degree of growth inhibition on susceptible strains of microorganisms at differing concentrations. One of the two methods defined in the pharmacopoeia to make this determination is the diffusion (Cylinder-Plate) method.
The diffusion (Cylinder-Plate) method is based upon the diffusion of the antibiotic throughout solid culture media. The antibiotic is brought in contact with the culture media in vertical cylinders at multiple concentration levels. After incubation, the inhibition in growth of the target organism is measured. Potency is calculated against an reference standard with a known potency.
A major advantage of microbiological potency testing, as opposed to chemical assays which simply provide a concentration, is that the effect of the antibiotic is directly measured on a living microorganism, providing a real measure of the antibiotic action.
Antimicrobial effectiveness testing services
Antimicrobial effectiveness, routine analyses and test codes
Products that claim anti-microbial properties, such as preservatives in pharmaceutical products, may require antimicrobial effectiveness testing. The testing demonstrates the effectiveness of the preservative system in the product.
The product is inoculated with a known quantity of specified microorganisms and the quantity of microorganisms found in the control sample is compared to the sample over specified intervals, over a 28-day period.
Testing is performed according to USP <51>
Bioburden testing services
Does your manufacturing process meet your microbial quality and sterilization requirements?
Bioburden testing, or total viable count testing, is the measure of microbial contamination levels on or in a product.
Bioburden can be introduced from the raw materials used in the manufacturing process, or be introduced via the workforce or manufacturing environment. With numerous sources of contamination, the bioburden of a product can fluctuate between batches, so regular, routine testing is advisable.
Bioburden testing (total viable count)
Bioburden test results may be used to:
Test raw and finished product materials for microbiological examination of non-sterile products (USP<61>)
Methods for the absence of specified or objectionable microorganisms can be developed. These methods not only give total viable counts, but also identify the presence or absence of specified microorganisms, providing complete, robust test results. (USP<62>, USP<60>)
Demonstrate microbial quality control of the manufacturing process through routine monitoring and trending (ISO 11737)
Determine radiation dose for terminally sterilized product (ISO 11137)
Investigate root cause of contamination excursions from routine production (Alert and Action levels)
Synergy Health offers:
A bioburden testing method developed and validated for each individual product/device type, ensuring best accuracy and repeatability in bioburden testing
Controlled testing documentation issued to Customers for every bioburden method developed, ensuring consistency in testing throughout product/device life span
Bioburden method designed to suit each Customer's need – Speciation in bioburden testing
Product warning and/or alert limits included in individual bioburden methods
Bioburden testing is used for:
Pharmaceuticals
Raw materials
Medical devices
Packaging
Cosmetics
Microbial identification
Rapid identification service for pharmaceutical and medical device markets.
Rapid methods for microbial identification (ID) in pharmaceutical and medical device manufacturing and packaging environments can be vital to an organization to avoid large periods of production downtime should a contamination event occur.
Synergy Health offers a range of both traditional and rapid methods of microbial identification. These include gram stain testing, microscopy, selective media and rapid identification via MALDI-TOF mass spectrometry. MALDI-TOF (Matrix Assisted Light Desorption Ionisation – Time Of Flight)
The MALDI-TOF microbial identification method utilizes mass spectrometry. Within minutes, it can identify bacteria and yeasts to species level by characterizing the unique protein fingerprint for each microorganism, and matching this to an extensive pre-populated database.
The MALDI-TOF is also able to undertake other capabilities such as identifying antimicrobial resistance so please contact us to discuss if you have other requirements.