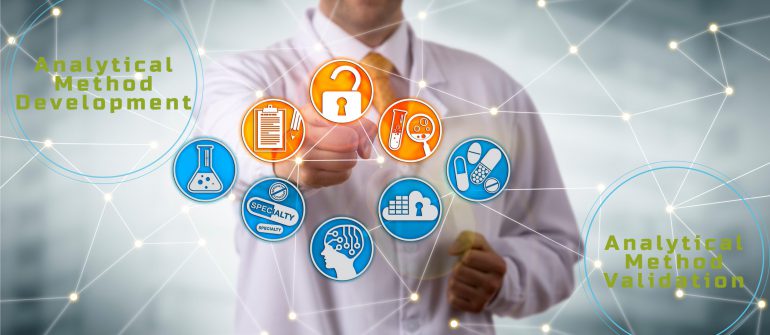 Analytical method development and validation
Synergy Health Utrecht offers method development and validation for pharmaceuticals, medical devices and related industries
Analytical method development and validation are essential in drug development and manufacture. Once a method has been developed, it is a key requirement to prove that the method is suitable for its intended use. A validation is performed to verify the method's suitability and, if successful, the method is deemed valid to use for its purpose.
Method development
Method development and validation can be a complex story when development of a method was not performed well, to overcome this Synergy Health Utrecht has systematic procedures to guide our Customers through this process. Our team is experienced in developing methods for drug products, APIs and excipients, as well as healthcare products and cosmetics. With a well developed method, validation is just a formality.
Our cGMP laboratories are equipped to perform method development and validation studies. Additionally, Synergy Health Utrecht performs forced degradation studies including acid, base, peroxide, light and temperature. A forced degradation study is an essential tool in developing stability indicating methods.
Method validation
After a successful method development, the suitability of the method should be verified with a method validation. Synergy Health performs method validation studies in accordance with ICH guidelines. Before we begin a validation, we edit a method validation protocol, which is shared with our Customer for approval. Once the validation is approved, we begin the study and the following parameters are tested regularly: specificity, limits of detection and quantification, linearity, accuracy, precision and robustness. Upon completion, all results are presented to the Customer in a validation report.
Additionally, Synergy Health offers cleaning validations. Cleaning validations are of high importance in the manufacturing and packaging of pharmaceutical products.
Method development and validation is used for:
Pharmaceuticals
Medical devices
Analytical method transfer:
To qualify a laboratory for a new method a method transfer needs to be performed. There are several ways to transfer an analytical method from one to another laboratory. Together with you as our Customer we will find the right model for transfer of your method to Synergy Health within regulatory boundaries.